The B-17 was built by Boeing Aircraft (Seattle, WA) and was the most valued strategic bomber in WWII. They took on the name of "Flying Fortress" because they had gunner turrets top, bottom, rear and sides. A total of 11-13 machine gun turrets (depending on the model), .30-caliber , to protect the bomber from enemy fighters. It had a bomb payload of 4,000 pounds.
In the early years of the war our fighter planes could not go as far as the B17s due to their fuel capacity. So many times the B17s were on their own. This took a huge toll on them because the German fighter planes would cause severe losses to the squadrons. Later in the war the P51 mustang fighter plane was developed that had the added range needed to protect the bombers to and from their targets.
Other specifications

Span:

103 feet 9 inches

Length:

74 feet 9 inches

Gross weight:

65,000 pounds

Top speed:

287 mph

Cruising speed:

150 mph

Range (max.):

3,750 miles

Ceiling:

35,600 feet

Power:

Four 1,200-horsepower Wright R-1820-97 engines

Accommodation:

2 pilots, bombardier, radio-operator, 5-6 gunners
Usually four officers and six enlisted men.

Armament:

11 to 13 machine guns, 9,600-pound bomb load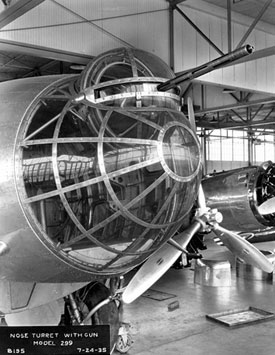 click for larger photo
Above: Photo of a B17 in combat and showing serious damage (tail and nose damage) with a german fighter visible to the starboard of the bomber.
(click image for larger view)
B17 Cockpit pictured below
(click image for larger view)
Over 12,000 B-17 Bombers were built.
Sadly, only a handful survived and exist today.