Founding of the 351st Bombardment Group

---
On Tuesday Nov. 24, 1942 at Geiger Field just outside Spokane,WA the 351stBG(H) consisting of four air Squadrons was officially formed. At Polebrook, the Rothchild country estate in Northhampshire, the 351st base unit was to be comprised of the 508th, 509th, 510th and 511th Squadrons; each with a complement of 72 B-17s (plus hacks and spares). With aircrew and support personnel the station had an estimated strength of 7,900 personnel.
Dec. 28th 1942: Flying conditions in Washington were unsuitable for a heavy training schedule. After a short stay at Geiger Field the 351st entrained for Biggs Field (El Paso), Texas arriving Jan. 2, 1942 to conduct round-the-clock combat flight training. The Air Echelon of the 351st BG began to ship overseas on April 1st 1943 transiting through Kearney Air Base, NE. Officially Station 110 was activated April 15, 1943. B-17s, station hacks and key support personnel were ferried from Pueblo,CO. AAF through Presque Isle & Dow Field in Maine to Gander Lake, Labrador then flown to Prestwick, Scotland and finally on to Polebrook. May 4th 1943 under secret orders Ground Echelon personnel went by troop ship departing from New York on the Queen Elizabeth. The 510th and their brethren were going in harm's way. May 13th the 351st flew its first combat mission but had to abort due to flight element separation.
Operated primarily against strategic objectives in Germany, striking such targets as ball-bearing plants at Schweinfurt, communications at Mayen, marshalling yards at Koblenz, a locomotive and tank factory at Hannover, industries at Berlin, bridges at Cologne, an armaments factory at Mannheim, and oil refineries at Hamburg. Also struck harbor facilities, submarine installations, airfields, V-weapon sites, and power plants in France, Belgium, Holland, and Norway. Received a DUC (Distinguised Unit Citation later named the Presidential Unit Citation) for performance of Oct 1943 when an aircraft factory in Germany was accurately bombed in spite of heavy flak and pressing enemy interceptors. Received another DUC for its part in the successful attack of 11 Jan 1944 on aircraft factories in central Germany. Participated in the intensive air campaign against the German aircraft industry during Big Week, 20-25 Feb 1944.


2 presidential Unit Citations
2d Lt Walter E Truemper, navigator, and Sgt Archibald Mathies, engineer, were each awarded the Medal of Honor for action on 20 Feb 1944: when their aircraft received a direct hit that killed the co-pilot and wounded the pilot, Truemper and Mathies managed to fly the plane until other crew members could bail out; on the third attempt to land the plane in an effort to save the pilot, the B-17 crashed and the men were killed.
In addition to its strategic missions, the group often operated in support of ground forces and attacked interdictory targets. Bombed in support of the Normandy Invasion in AIR FORCE COMBAT UNITS-GROUPS 231 in Jun 1944 and the St Lo breakthrough in July. Hit enemy positions to cover the airborne attack on Holland in Sep 1944. Struck front-line positions, communications, and airfields to help stop the German counteroffensive in the Battle of the Bulge, Dec 1944-Jan 1945. Flew missions in support of the airborne assault across the Rhine in Mar 1945. Returned to the US soon after V-E Day.
---
During the three years at Polebrook, the 351st B.G. (H):
| | |
| --- | --- |
| Total B17 Flying Fortresses | 279 |
| Sorties Flown | 9,075 |
| Tons of Bombs dropped | 20,778 |
| Rounds of Ammunition fired by Gunners | 2,776,028 |
| Enemy Aircraft destroyed (shot down) | 303 |
| Credit Missions | 311 |
| Number of B17s lost in battle | 124 |
| Total B-17s lost | 175 |
According to Air Command; "To man these aircraft the USAAF trained 193,440 pilots and washed out another 124,000 from 1 July 1939 to 31 Aug. 1945 while training 400,000 aircrew to man the bombers and transports with bombardiers, navigators, gunners flight engineers and other specialists." The war began a revolution in the training of USAAF airmen.
CAMPAIGNS
Air Offensive, Europe; Normandy; Northern France; Rhineland; Ardennes-Alsace; Central Europe.
My dad's medals, Ribbons and Unit Citations
and Insignias can be seen on THIS PAGE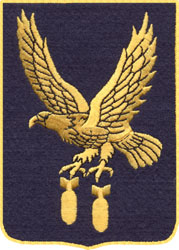 351st Bombardment Group(H)
Polebrook AB, England
508th (YB- ) Commanders:
Maj. Kieth G. Birlem Nov. 24, 1942 - May 7, 1943
Lt. Col. James T. Stewart May 14, 1943 - Aug. 28, 1945
509th (RQ- ) Commanders:
Lt. Col. Elzia Ledoux Nov. 24, 1942 - Jul. 1, 1944
Maj. Paul L. Fishburne Jul. 1, 1944 - Sep. 25, 1944
Maj. Franklin A. Richardson Sep. 25, 1944 - Mar. 25, 1945
Maj. Mortimore L. Korges Mar. 25, 1945 - Aug. 28, 1945
510th (TU- ) Commanders:
Cap. William R. Forsythe Nov. 24, 1942 - May 14, 1943
Maj. John R. Blaylock May 17, 1943 - Dec. 31, 1943
Maj. Leonard B. Roper Jan. 4, 1944 - Jul. 21, 1944
Lt. Col. Paul D. Wood Jul. 21, 1944 - Oct. 15, 1944
Maj. Leonard B. Roper Oct. 15, 1944 - Jan. 17, 1945
Maj. John D. Gorham Jnr. Jan. 17, 1945 - Aug. 28, 1945
511th (DS- ) Commanders:
Lt. Col. Clinton F. Ball Nov. 24, 1942 - Sep. 23, 1943
Cap. Harry B. Morse Sep. 27, 1943 - Oct. 1, 1943
Lt. Col. John B. Carraway Oct. 1, 1943 - Aug. 28, 1945
The 351st
units and squadrons
11th Station Complement
201st Finance Section
252nd Medical Dispensary
304th Service Group
320th Service Squadron
447th Sub-Depot
854th Chemical Co.
1052nd Ordnance Squadron
1061st MP Company
1629th Ordnance Supply and Maintenance Co.
2098th Aviation Fire Fighting Platoon

508th Squadron


509th Squadron


510th Squadron


511th Squadron