---
I am the original owner of this 1995 3000GT VR-4. I bought it new February 1995 for $51K after addons (re-tint windows darker, CD changer, tax, licensing, etc). The following are the modifications I have done since then. The mods represents Stages 1-6 of modifications of the VR4, stereo system, etc. Total cost of all mods is approximately $53,000 for parts and materials. Most of the labor I did myself. Not all pics show all mods. Some pics are outdated.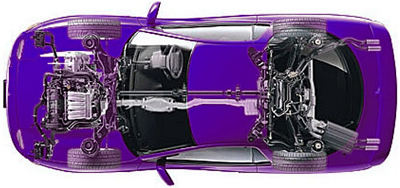 ENGINE/DRIVETRAIN Modifications

15g Turbos


(larger turbos, more power and higher boost capabilities)

550cc Injectors


(more fuel needed to feed larger turbo power levels)

DNP Stainless Turbo Hardpipes


(nicer looking, larger diameter pipes for more flow)

DSM Converted Intercooler Cores for SMIC


(better intake air cooling for more power)

AEM Engine Management system (1311-ECU)
(complete engine system managment, more here)
AEM dual channel wideband O2 kit


(replace narrowband for finer tuning control)

3.5 Bar MAP


(replaces stock MAS. Now a speed density system)

Dejon Intake pipes w/ dual K&N air filters


(better flow, get rid of OEM restrictive intake)

HKS Turbo Twin Stainless Exhaust-Twin Tip system


(nicer sound, larger diameter pipes, still looks stock)

Stillen Stainless DownPipe


(larger diameter and less bends, more power)

Pre-Cats removed (front) , rear gutted


(less restriction in exhaust)

HKS SSQV BOV (blow off valve)


(able to hold higher pressures)

Koyo heavy aluminum radiator


(increased cooling abilities, more power makes more heat!)

All Silicone Coolant Hoses


(better protection against high heat, looks nicer too)

Flexalite 12" twin electric radiator fan system


(better fan flows, custom controlling of activation)

HKS Circle-the-Earth Grounding system


(better grounding system maintains good electrical operation)

Denso Iridium Spark Plugs


(better performance than the stock platinum tips)

99 Lifters (3rd gen)


(gets rid of the previous 'lifter tick' issues)

Accel HiPerf Wires


(better delivery of high voltage to plugs)

Optima Battery


(better output, reliability, cranking amps)

Custom Spark Plug Cover, polished/powder coated


(just for looks)

Full Silicone Hose Replacements


(looks nicer but also better heat protection)

Denso Fuel Pump upgrade & hotwire


(maintain the higher fuel demands of larger injectors)

AEM adjustable FPR & fuel pressure gauge


(same as the fuel pump - maintain higher fuel flows)

Polished Fuesbox Cover & Injector wiring cover


(looks only)

Greddy Oil Catch Can
(collect oil crud instead of delivering back into engine or intake)
HKS Twin Power DLI Ignition Amplifier


(huge increase in spark output and duration, prevent spark blowout at higher boosts)

Spec II+ Clutch
(to hold higher horsepower output)
Spec Lightweight Flywheel


(faster rev'ing and quicker response)

Tein FLEX CoilOver Suspension (lowered)
(better response, lowered for better cornering)
Just try and beat a lowered AWD/AWS VR4!

EDFC Suspension Controller
(in cab control of the FLEX - can change front/rear suspension settings
on the fly in cab)
3sx Camber Control Arms


(required to give better adjustments for alignment after lowering chassis)

Aquamist 2D Water/Alcohol Injection System
(prevent knock at higher boost pressures, keep carbon hotspots off engine internals)
SEE MORE HERE
HKS Intercooler sprayer system


(prevent heatsoak or cool down overheated intercoolers and/or radiator)

Setrab Oil Cooler, Front Mount (FMOC)


(increase oil cooling ability, move to front for better air flow)

QTEC Electric Exhaust Cutout and Controller


(Y cutout for open exhaust, in-cab controlled)






BODY Modifications


Re-Tint Windows
99 Conversion:
Sail Panels
Rear Spoiler - high design
Back Center Panel
575 Ferrari Style Carbon Fiber hood (painted)
w/ air ducting to intake and rear turbo area
PIAA 1000XT Driving Lights
Active aero (front and rear) removed


(replacing the rear spoiler eliminated the need for active aero, ie- motorized spoilers)



(no photos of 99 spoiler or hood yet - photos coming later in 07. Click image below for body shots)




INTERIOR Modifications


3 gauge full A-Pillar pod


(added room for 3 gauges: EGT, Oil Temp, Turbo Boost Pressure)

Custom console controller installs


(complete remodel of center dash for electronics)

Polished VR4 Door Sills (Carbon Fiber & Scotchlite)
SS. Short Shifter


(reduce shift travel requirement, quicker)

HKS 6speed shift knob w/ leather boot
MOMO Racing Pedals
MOMO E-Brake Handle
Complete Stereo customization (see below)
DEFI HUD (Heads Up Display)


(can see speed or tach in windshield without looking down)

Custom electronics pod for EBC


(electronic boost controller - Blitz i-color)



CLICK IMAGE TO SEE INTERIOR
ELECTRONICS (details can be viewed at the photos interior page from top left menu)


HKS Turbo Timer-Type 1


(keeps engine running on it's own to cool down turbos)

Active Radar Jammer


(obvious)

Blitz DSBC i-Color Electroniz Boost Controller


(in cab control of boost and turbo gain)

AEM Pro Serial Guage (shows timing, knock, load, egt, O2, etc)
(multiple parameter monitoring)
AEM UEGO W/B O2
(3rd wideband O2 sensor after front and rear banks merge)
HKS Fan Controllerw/ IC & Radiator spray controller
(in cab control of radiator fan operations, sprayer for cooling
the intercoolers - spray methanol/water)
HKS Injector Pulse Monitor


(monitor injector duty, alert when over set %)

Defi HUD System


(see speed or rpms on windshield without looking down)

Custom Omori Gauges (6), white faced, BL color controlled.
(higher quality/accurate meters)
Added Meters -Water Temp, Oil Pressure, Boost, Volts, Oil Temp, EGT
(Omori custom made RGB Backlight and needle color selectable)
Lateral & Acceleration G-Force Meter
AEM Wideband O2 Gauge


(for tuning)

Aquamist DDS3 controller and gauge
(for in cab monitoring and control of alcohol/water injection system)
Intercooler in/out temp monitors display
(tell if intercoolers are doing their job, not heat soaked,
monitor output air temps or comparitive readings)
Smartire Remote Tire pressure and temperature system
(2nd gen wireless tire pressure monitor display and temperature display.
provides real time display & warnings of all tire pressures and temps in cab)
G-Tech Pro RR Performance meter

STEREO


Kenwood DDX-6039 TouchScreen MONITOR System (CD/ MP3/ DVD)
Kenwood "KEG" MP3 Hard Drive Storage - 40GB
Kenwood KNA-G510 GPS & Navigation System
Kenwood CCD-900 Rear Camera
MTX 8000 10" subwoofers (2) + custom enclosure
MTX 6532 Speakers
MTX 900W 4 channel Amplifier
MTX Subwoofer Amplifier 450W
MTX CROSSOVER RT-X02A
X-Static BatCap 400 amps
Infinity Kappa Speakers 60.5 door and tweeters
Infinity Kappa Speakers 63.5 three way
DynaMat installed throughout for soundproofing

For stereo specific info and custom install photos CLICK HERE

OTHER Modifications


Power Slot Brake Rotors


(better heat reduction and cleaning off of pads)

Hawk HPS Brake Pads


(good all around street pads)

Stainless Steel Brake Lines
Trust ( Greddy ) Front and Rear strut bars
And other such things , little things like brake caliper epoxy painting and so forth.
Those that own 3000GT's know it's a full time job :)
I use the stock 18" chrome wheels currently. For tires I prefer the Yokohoma A028's (orig OEM equipment). They are the higher end tires (at about $325 each) but they handle better than lesser tires and the ride is also smoother with the better (softer) rubber. The Eagle F1 tire range are also reportedly as good.