The 3000GT was made in three models. There was a fourth (spyder - retractable hard-top) of limited production:
3000GT :basic model, no extras! Approximate cost $26-28,000
3000GT SL :this gave you some spoiler features, leather interior, etc. The middle line of 3000GTs. Approximate cost $30-35,000
3000GT VR-4 : Top model - all wheel drive, all wheel steering, twin-turbo, 18" wheels, 6 speed manual transmission, etc. etc. Approximate cost $45-50,000.



3000GT VR-4 Spyder : A limited production vehicle it's a VR-4 with a retractable hardtop. Approximate cost $65-70,000
original MSRP purchase sticker here
---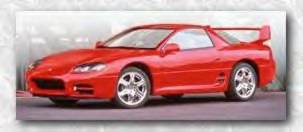 1999VR-4
The VR-4 has many features that make it a top production vehicle. It is highly computerized and comes factory with 320 HP. There are 6 stages of modifications with the final stage (estimated 1-6 stage cost is $48,000 additional, depending on parts used) making possible power in the 500 - 750 HP range. Don't blink.
Want to know more?
Go to specifications page or choose the photo areas from the above left menu.
See the other 3000GT parked next to my blue one
SLAYER - 3000GT Drag Car
---